If you're already into the bullet time effect you probably know what is a 360 bullet time effect but if you are looking at bullet time photography for the first time you do not need to worry as I got you covered. 360 bullet time booths are getting much attention these days and with few tips, you can also create a DIY matrix 360 bullet time slice effect. 
360 bullet time booths are being used for different purposes. It is not that popular for live events to be honest due to the lengthy setup process. But when it comes to commercial shoots, brand activation and experiential marketing events 360 bullet time is the king. In this article, we will discuss how you can create a DIY matrix 360 bullet time effect.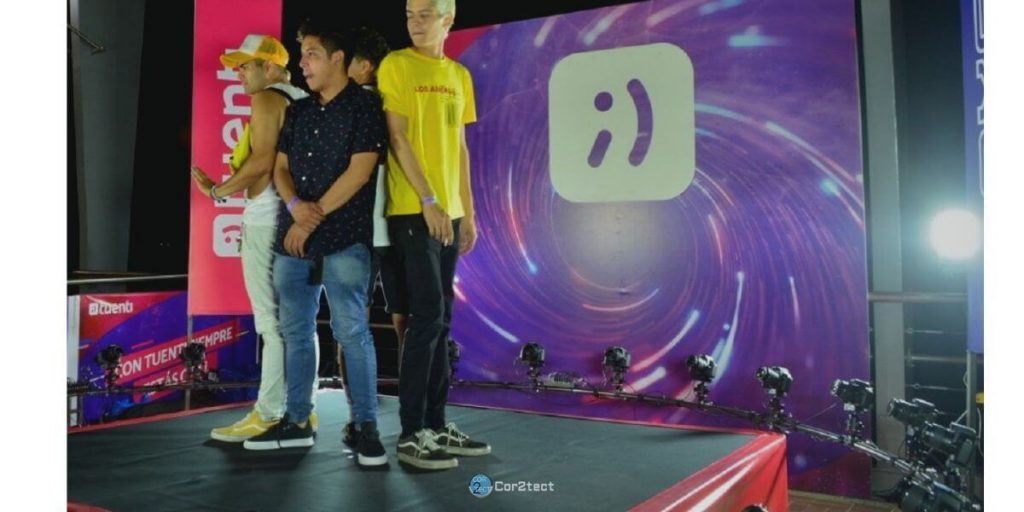 What is matrix 360 bullet time effect 
The Matrix 360 bullet time effect differs from 90 and 180 degree bullet time effect. The camera requirements are also different. 360 bullet time captures rotating images like 360 photo booths but you can create effects like jump and freeze which is not possible using a rotating rig.  
The matrix 360 bullet time is prominent among mega photo booths companies and experiential marketing agencies as it offers a complete 3D view of the subject and its environment. The output is obtained from a viewpoint of 360 degrees and it creates an incredible circular effect. It takes about 18 to 32 cameras to create a complete 360 degree effect by using only a spherical rig. Building a framework for the 360 bullet time-effect requires a lot of effort and time. Using 360 bullet time on a live event isn't so common because of its setup difficulty and not to overlook the expenses start to accumulate as you add additional cameras to your setup.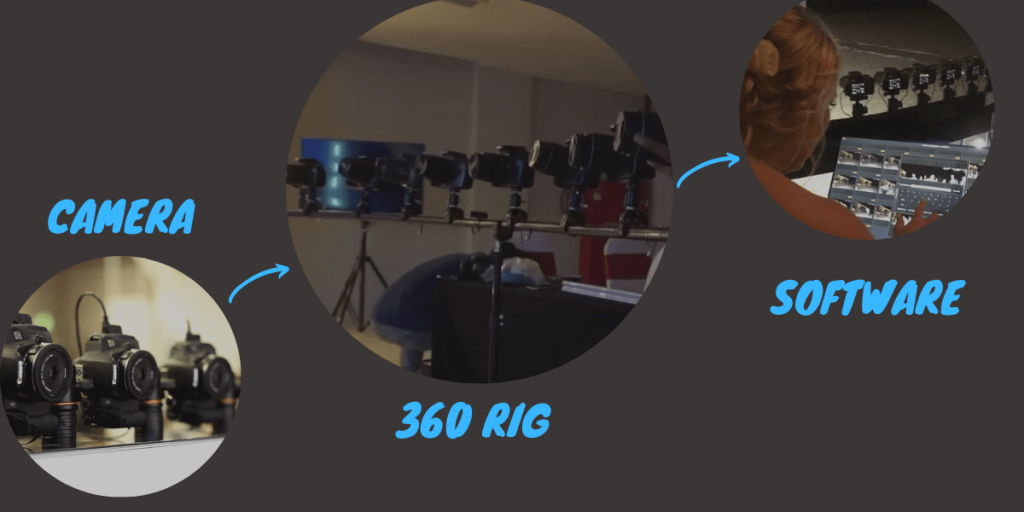 What are the things you need to build matrix 360 bullet time effect camera rig
By now I hope you understand what the matrix 360 bullet time effect is about and how it is different from 180 and 90 degree effect. If you had the chance to look at how to build a bullet time rig you probably realized that you can not buy a 360 rig. You have to take the DIY approach when it comes to building the rig. So in this section, we will identify the things you need to create the 360 bullet time effect camera rig. 
1. Cameras:
It is obvious you need cameras, in fact, a good number of cameras. This is one of the main reasons why most people don't want to create a 360 bullet time effect. You can create 360 effects using 18 cameras but the recommended is 24 to 32 cameras. That's a huge number of cameras and requires a big budget. To get the best of 360 effects I would recommend basic canon DSLRs like 1100D as you don't need trigger box. You can also do bullet time with Nikon but you will have to use trigger box. Instead of a trigger box, you can use USB triggering and trigger from the software. As there will be lots of cameras there will be Cabelas flying everywhere so it's better not to use any trigger box. So in a nutshell: 
Basic Canon DSLR

Collect 18 to 32 cameras 

Use USB triggering 
360 Rig: I suppose you have the right number of cameras at your disposal. I wish it was that easy but anyway let's assume you have the cameras ready and it time to build the rig. You know you need a circular rig for creating 360. You have three options here to put the cameras

1. On surface level
2. On the middle
3. At the top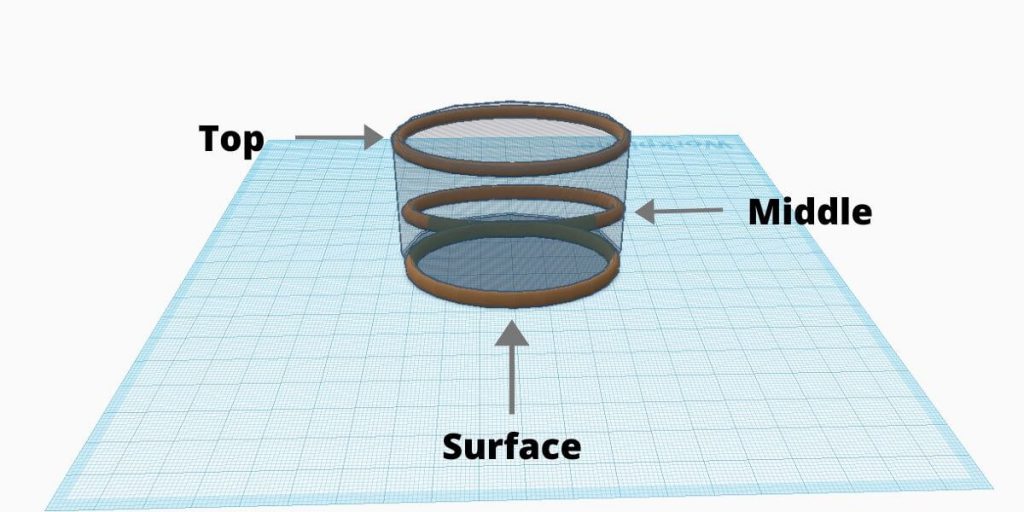 These three positions refer to where you want to place the cameras. For 360 bullet time it is better to place the cameras at the surface level and point the cameras upwards matching the position of the subject. This will help you to cut down the cost. If you want to place the cameras in the middle and the top you need to give your rig a structure that can be both costly and troublesome. But think about the needs of your event.    

2. Building the rig:
Many clients ask a pretty common question: what should be the diameter of the rig? The simple answer to this question is it will depend on your number of cameras and how many subjects you want to fit inside the rig. The process is the same for 180 and 90 degrees. If you want to learn more about the rig building you can check out how to build a rig for bullet time effect.
3.Software:
As I mentioned earlier you need to go for USB triggering and Cor2tect offers the fastest USB triggering for bullet time effect. It's fully automatic and easy to use.  You need one click to produce the final output and it takes less than five seconds. Visit Cor2tect's website to learn more about the software.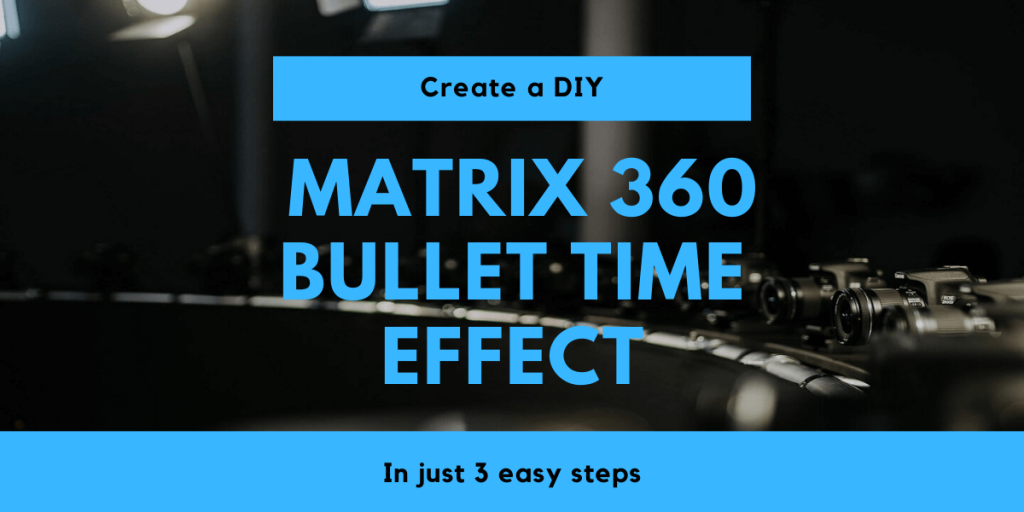 How to create a matrix 360 bullet time effect 
I hope you have all the required things by now and if you do it game time. You have the cameras, You have the rig and you have Cor2tect's fastest triggering bullet timeslice booth. Now you need to follow the mentioned three steps: 
Setup:

The setup is pretty straightforward. Connect all the cameras using a powered USB hub and connect it via a computer. Connect all the cameras one by one from the software and make sure all the cameras are connected.
 

Calibrate:

Once all the cameras are connected place a calibration bar in the middle and from the software calibrate the cameras. If you don't have a calibration bar you can create one yourself using a hardboard or hard paper. There must be three bright colors on the bar and it can be green, yellow or blue.



Trigger:

When you are done with the calibration it's time to start shooting. You will find an 'Auto Export' option on the software. During live events, you need to set the software on auto-export mode and trigger the cameras from the software. You can also trigger the cameras using a Bluetooth controller as in unattended mode. Once you click on the trigger it less than five seconds you have the final output ready. 
For Events During COVID-19
COVID-19 has turned the event industry upside down & the bullet time event industry was no exception. Due to increased social distancing among general mass setting up big bullet time rigs has decreased dramatically and people are shifting towards smaller rigs. Cor2tect has released a new software for Bullet Time which is called Nano Bullet Time Effect which is considered to be the best Multi Camera Rig for events during COVID-19. Using this you can trigger 6 cameras and use Diphideo Sharing Station which supports multiple sharing devices for free. Currently this Nano Bullet Time Effect is on sale so contact us to book your package today.
Color Grading & Super Slow Motion For Bullet Time Effect 
Cor2tect just launched a super slow motion effect for Bullet Time and it is blowing people's mind and you can also get your hands on the latest version of Cor2tect's 3D Bullet Timeslice Booth.
Another useful feature of Cor2tect's software is color grading. When running a live event in outdoors the lighting setup and getting the perfect light for your outputs can be quite troublesome. The advanced color grading option from Cor2tect can be your lifesaver and the best part is it's super easy to apply.
There are actually two methods of applying this the first one is by using an existing image. All you need to do is find an image that is perfect for lighting. You simply select the image from our software and the color grading of your video or image will be set automatically according to the images you just selected. This is super easy, fast, and perfect for live events.
The second method is for the people who are involved in post-production and does not get satisfied too easily. Thought manually editing the color grading can be quite a time-consuming task but there are people who would like to have the final touch themselves rather than automation. So for those people, you can select .cube extension and select the color according to your needs. Once you are happy with the color of grading of the cube file it will be added automatically on your video or images.
It's easy as a pie when you have the right tool to create a 360 bullet time effect. There can be confusion as well as a lengthy process. If you are facing issues regarding the 360 bullet time effect you can always contact us and our support team will take care of your issue.