One camera is never enough these days as people are finding more creative ways to captures images are videos. Anyone can trigger a single camera but what if you want to trigger multiple cameras simultaneously at once. This has been a mystery for quite a long time and only film producers and cinematographers had the answer to this question. With the right tools and setup, you can also trigger up to 200+ cameras. On this blog, I will show you how you can trigger multiple cameras without any trigger box.   
What can you do with triggering multiple cameras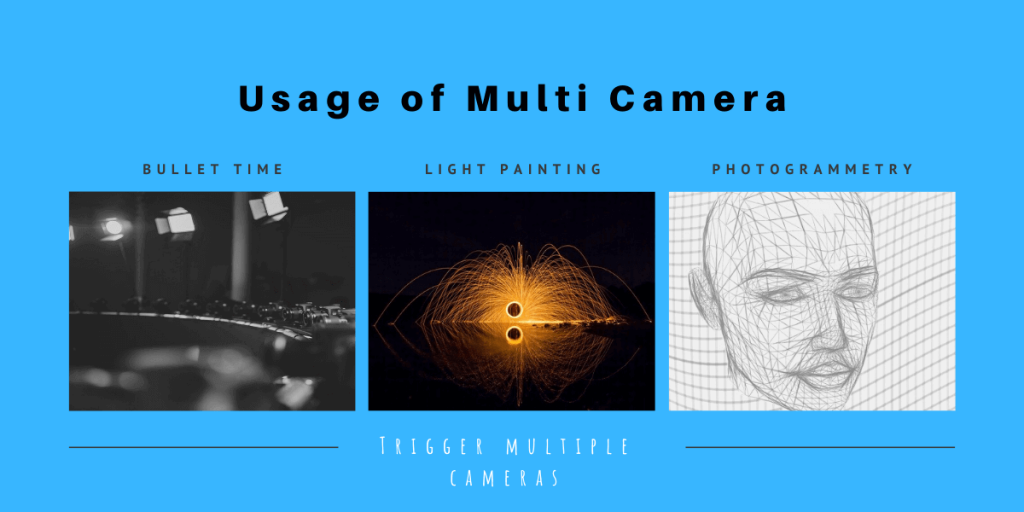 Some of you might have a bunch of cameras at your disposal and you have no clue what you can do with it. If you have some and you are clueless about what you can accomplish with those this section is for you. 
Bullet Time Effect:
I bet you will find a few people who have not seen the Matrix. Keanu Reeves with bullet dodging scene is still one of the most iconic movie scenes of all time. That scene was created using multiple cameras and a green screen effect. But how many cameras used for this scene is still unknown. But if you have just 6 cameras you can create a 90 degrees bullet time effect. If you add more cameras you can create 180 degrees even 360 degrees bullet time effect. I have a separate blog that will guide you on How to create a bullet time effect. 
Photogrammetry:
Ever heard of the term photogrammetry? The photogrammetry term refers to Photogrammetry is the craft, technology, and science of collecting accurate information about physical items and environments through the method of capturing, evaluating and analyzing photographic images and patterns of electromagnetic reflective imagery and other occurrences. I know you are lost right now trust I had no clue when the first time I heard about this term. Let me break the ice for you. 
Our eyes can see an object in 3D that means we see 3 dimensions of an object but when you want to transfer a 3D image of an object in any digital space like a computer you need to shoot the object using multiple cameras from multiple directions to gather a 3D image of the object. Though you can create photogrammetry using one camera but depending on the object you may need 30 to 50+ cameras. 
Light painting:
Painting with light, light painting, light drawing, or light art display photography are concepts that characterize photographic methods of changing a light source when taking a long exposure image, either lighting a subject or room or reflecting light on the lens to create or shifting the camera itself when light sources are exposed. The method has been used since the 1880s and is used for both scientific and artistic reasons as well as commercial photography.
One camera is enough to create lighting but what's the fun in that? When you combine 6 to 10 cameras you can create an amazing 3D effect with light painting.
What are the hardwares you need to trigger multiple cameras 
If it is bullet time or photogrammetry you need hardwares to trigger multiple cameras but not trigger box and raspberry pi. We are in the 21st century right now and trigger box and raspberry pi was the old concept nowadays USB triggering is the most reliable way to trigger multiple cameras. But you need below hardwares to trigger multiple cameras: 
A desktop computer or a laptop.

DSLR cameras

Power Adapter for Camera

Powered USB Hub

USB cables

A camera rig.
Computer:

An optimal working PC is a must as you need to stitch the images taken from multiple cameras. You will require more powerful computer if are planning to use more cameras.

Camera:

For one computer you can use up to 60 DSLR cameras for fast output processing but you can use 100 or even 200+ cameras but you will be needing more computers for it. Now it's time for you to decide how many you want to use. The number of cameras will depend on what are you planning to do with the cameras. For bullet time effect you can start with 6 to 200 cameras. Photogrammetry usually requires 30 to 50 cameras and that will also depend on the subject you are planning to shoot. Lastly, for light painting 6 to 10 cameras are enough to create a stunning light painting.

Power Adapter for Camera:

Each camera should have a power adapter to guarantee constant power. So you need to connect the cameras with a power adapter. You can still use the camera batteries for power but I'm not going to recommend them for live events because you need the cameras to stay awake for a longer period of time.

USB Cable:

We will use USB cables rather than raspberry pi to link one camera to the next. The quickest and easiest way to link multiple cameras together is through the use of USB cables. In fact, the entire setup will look clean and tidy, making it perfect for live events.

Powered USB hub:

All USB cords must be linked to a wired USB hub, and the hub attaches to the desktop you are using. USB hubs are easy to use and can be found in any local hardware store. It's suggested to have a powered 12 volt or more and use Anker's powered USB hub.

Camera Array Rig:

You just can not use 10 to 20 cameras together just by placing them side by side on the floor. You need to build a structure that will hold the cameras together. For bullet time and light painting, you can build a rig that will support both. We have a separate blog that will help you to

build the rig for bullet time effect

and light painting. 
How many cameras you can trigger  
This was one of the most asked questions when we are talking about triggering multiple cameras. Every time I answer with the same statement which is how many cameras you have? If you have 200 cameras you can trigger them all at once thanks to Cor2tect's Multi-Camera controller. 
If we look at a few years back people used raspberry pi and trigger box to trigger multiple cameras. When you are using Canon DSLRs you do not need to use any trigger box but when it comes to Nikon and Sony you need to use trigger box. So if you are planning to trigger multiple cameras at once go for basic Canon DSLRs like 1100D 1200D, 1300D. Some people think that USB triggering is not reliable as USB triggering but they are dead wrong. USB triggering is more reliable and fast as to trigger box triggering.
If you are using Canon you can trigger up to 60 cameras using one computer so if you have 100 cameras you need to use 2 computers. As you are connecting more cameras it needs more power to process the images so that why the number of computers increases as the camera number increases.      
Steps to trigger multiple cameras
I hope you had the chance to read how to build a camera rig blog as most of people use multi camera to create a bullet time effect. If you are not using it for bullet-time no worries you can still use this section to trigger multiple cameras but make sure you have Cor2tect's Multi-camera Controlling software. 
Step 1: Setup
When you are using USB triggering the setup is quite straight forward. Connect each camera using USB cables and USB hubs. Then connect the hub to the computers. If you plan to use the set up for a longer period of time make sure you connect the cameras using a power adapter to ensure continuous power.    
Step 2: Connection
Once you get the verification of connecting the cameras to the computer you need to launch the software. You will see on the software that it has identified the cameras. Now just connect cameras. You may pick all of the cameras, or choose some of them. You've linked 20 cameras via a USB hub, for example, but you want to use 12 cameras for a specific shoot so you can manually choose which cameras you want to use.
Step 3: Trigger
You're nearly there as you need to adjust camera settings such as ISO, shutter speed, aperture, and so forth. The software allows you to adjust all camera settings. Once you are content with the adjustments you must calibrate the cameras. This takes 5-10 sec, and you can do it using any horizontal bar that has 4 objects on it. The luminous object can be yellow or green. Once the calibration is complete, shooting will begin. You do not need to have any trigger box to trigger the cameras. From the software, you can activate the cameras, and there is an auto-export option.
Webcam Controler 
We covered the DSLR part & sometimes we get questions like can the software be used for controlling webcams? The answer is yes you can control webcams too. We recently have published a new article which aims ar only webcam controlling so make sure you check out How to simultaneously control & record using multiple webcams.
For Events During COVID-19
COVID-19 has turned the event industry upside down & the bullet time event industry was no exception. Due to increased social distancing among general mass setting up big bullet time rigs has decreased dramatically and people are shifting towards smaller rigs. Cor2tect has released a new software for Bullet Time which is called Nano Bullet Time Effect which is considered to be the best Multi Camera Rig for events during COVID-19. Using this you can trigger 6 cameras and use Diphideo Sharing Station which supports multiple sharing devices for free. Currently this Nano Bullet Time Effect is on sale so contact us to book your package today.
Thanks to technological advancements in the sector of computer vision and image processing system triggering multiple cameras are now easier than ever. Share this article if you got what you were looking for and if you are confused about any part to make sure you contact us today.