For many people, the Bullet time effect or matrix bullet time effect is still a mystery. Most of us don't fully understand what is bullet time effect or matrix bullet time effect or how to do it. But many people around the globe earn a lot of money by running bullet time effect photo booths. If you are new to this term, this blog will help you understand everything about the Bullet time effect or matrix bullet time effect. 
What is Matrix Bullet Time Effect 
When I first heard the term "Bullet Time" my first impression was maybe it is connected with guns and bullets but I was dead wrong. So get the bullets out of your system as it is related to photography. Like you, I was also baffled to learn about its base and when I first saw the effect my mind was blown and I started digging into how it's done. I will also cover the part where I will show you how you can create the actual effect. People from all over the world use different terms to express the effect. Terms like 'bullet timeslice', 'Freeze time', 'frozen moment', 'dead time', 'flow motion', 'matrix effect' and the list goes on and on. The term originated from 'The Matrix' movie where  Keanu Reeves dodged bullets in a dramatic fashion and that scene is still popular even though two decades have passed by.
If I take a bookish interpretation, this Bullet Time Effect is a method for making games and movies that dramatically delay or slow down time. The time is sufficiently slowed down to display objects that are not normally apparent or filmable. The object is stopped while it is moving and shown from different angles. It can be 90 degrees, 180 degrees or 360 degrees.   
I know it's a bit confusing but in reality, it is really simple. For people who are looking at the bullet time effect for the first time, it can be referred to as multiple camera photography. To put it simply its the process of using a bunch of cameras to shoot in a sequential manner to create a 3D effect to reveal the subject in such a way that creates a 3D motion effect. I hope you are with me till now because now we will dive into the types of bullet-time effects. To put it plainly, it uses a couple of cameras to sequentially capture the subject in order to create a 3D motion in which a 3D movement effect is shown. 
History of Bullet Time Effect 
The history of the Bullet Time Effect goes back a decade. This awesome effect was first introduced by John Gaeta in a movie called The Matrix. But the concept of lining up a bunch of cameras and firing them one by one dates back before the invention of video. Eadweard Muybridge in 1878 with his horses in motion may have laid the foundation of today's bullet time photography. Muybridge previously worked out a way of taking a fraction of a second exposure and placed 12 cameras along a track in Stanford's estate with reporters as witnesses. The Speed Racer cartoon came into existence back in 1967. If you look at the intro of the cartoon you will see that the idea to move a camera around in an object while still in place comes from this too. 
So if we look at the timeline it can be said that Eadweard Muybridge was the pioneer of today's Bullet Time Effect and John Gaeta in The matrix popularized this awesome visual effect. 
What is Bullet Time Effect Photo Booth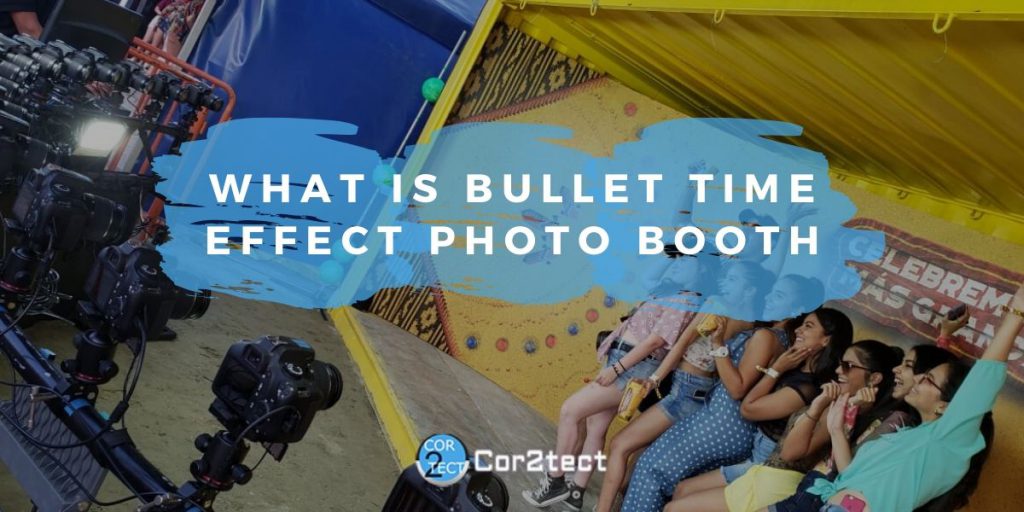 Well, the bullet time effect is not limited to film producers or game developers anymore. Nowadays photo booth owners are incorporating bullet time effects in their photo booth service. A photo booth is a kiosk or modern vending machine containing a camera and film processing that is automatic, typically coin-operated. The vast number of photo-booths are automated today and bullet tie photo booths are one of the most desired types of photo booths. Bullet time photo booths are the future of photo Booths. It is often known as 3D Bullet Timeslice Booth. It involves 6 to 100+ DSLR cameras to take images in a sequence and software is used to stitch up the images to create an MP4 or GIF. If you want to start your own bullet time photo make sure you check out how to start a photo booth rental business. 
All you need to do is take 6 cameras and bullet time effect software. To capture 90 degrees you need 6 cameras for 180 degrees you need 12 to 18 cameras and for 360 degrees you need 18 to 24 cameras. If you use Cor2tect's 3D Bullet Timeslice you do not need any trigger box as you will be able to trigger all the cameras using USB triggering. The hard part is to build a rig for bullet time effect but we also got you covered on that. To have a better understanding make you check out how to create bullet time effect. 
Thanks to today's camera mechanism and advanced software algorithm, creating bullet time effects is easier than ever. If you have any more confusion or questions make sure you contact us.